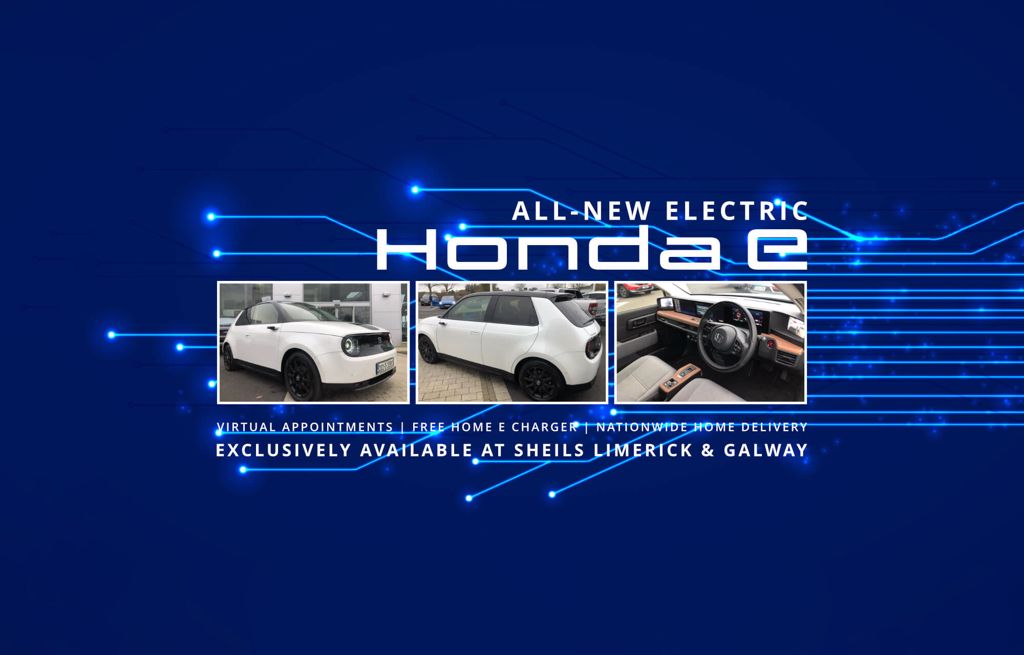 All-New Electric Honda e available at Sheils Limerick & Galway
Introducing Honda's first All-Electric urban car, the Honda e, is exclusively available at Sheils Motor Group Limerick and Ennis. We are the home and only stockist of the Honda e in Limerick and Ennis.
To book your exclusive test drive of the Honda e please call us.
A New Direction

The new Honda e is a car designed and shaped by the city and how we live our lives today. A car that seamlessly links all the different aspects of your life with intelligent connectivity. A car created with a sporty character, yet capable of offering remarkable levels of comfort. And of course, a car that produces zero emissions. Welcome to the next generation.
Design Details

A combination of design simplicity and advanced technology can be seen in every detail. The front door handles fit flush to the bodywork, only extending out and illuminating when you approach the car; whilst at the rear, they are hidden within the window area. Front and rear lights are multi-functional and incorporate the indicators into one cohesive design; the headlights even welcome you with animation when you unlock the car. The charging point, located centrally on the bonnet, allows easy access from either side and helpfully lights up when in use.
Born to be Electric

Electricity provides the perfect energy for city driving, it's clean, efficient and produces dynamic performance with zero emissions. The new Honda e has been designed to be electric from the ground up, so no compromise has had to be made with its dynamics and handling. Power comes from a compact 35.5kWh lithium-ion battery, which drives the rear wheels via an electric powertrain, exclusively developed for the Honda e. Fully charged, it has a range of up to 137 miles, which is more than enough to do all the things you love to do in and around town. Performance and range are constantly maximised, thanks to a clever system that keeps the batteries at their optimum working temperature.

Charging your Honda e is effortless thanks to its charging point being positioned centrally into the bonnet, allowing easy access from either side of the car. It features an integrated LED light which clearly indicates the status of the charge and a safety lock to ensure the power cable cannot be removed whilst in use. We've even designed the cable to be angled away from the car to protect the paintwork when charging. Charging times vary depending on the type of charger utilised but you can quick charge to 80% capacity in 31 minutes* with a rapid charger, which is less time than it takes to charge a smartphone.

* Charge times are measured from the low battery warning indicator.
Your Space

The unique full-width digital dashboard features five displays and keeps you informed, entertained and connected to the things you love; giving you intuitive control over a range of intelligent applications and services. Two central 12.3" touchscreens allow multiple information to be accessed simultaneously by the driver and the passenger, with the ability to switch screens by simply swiping from one to the other. You can even personalise them with your favourite pictures, so wherever you are, it'll always feel like your space.
Side Camera Mirror System

Conventional door mirrors have been replaced with high-definition cameras, which provide clear images on screens within the cabin, even at night or in bad weather. Because the cameras are more compact than conventional door mirrors, fitting within the width of the car, they not only reduce wind noise and drag, but are also useful for narrow streets and car parks.
Keeping you Safe

The new Honda e incorporates a suite of advanced safety systems including Honda SENSING, that have been created to assist you as you drive and help keep you and your passengers safe.

Honda SENSING includes Collision Mitigation Brake System, Road Departure Mitigation System, Traffic Sign Recognition System, Lane Keeping Assist System, Intelligent Speed Limiter, Adaptive Cruise Control with Low Speed Follow and Auto High-Beam Headlights.

In addition, the Honda e includes new features that have been specifically designed with city driving in mind: Lead Car Departure Notification System and Low Speed Braking Control.
For more information on the Honda e, requesting a personalised walkthrough video, discussing finance packages or launch offers please call us or email us today - Sheils Limerick 061 452244 or Sheils Galway 091 741100.
News